Titanic memorial garden set to open in Belfast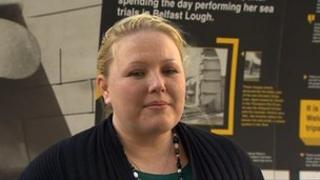 The new Titanic Memorial Garden in Belfast has been completed, just in time for the 100th anniversary of the sinking of the luxury liner.
The names of more than 1,500 victims of the disaster are etched on five bronze plaques.
The scale of the tragedy is there for the world to see - the large memorial plinth is nine metres wide, in order to accommodate the long list of names of the people who died.
The garden will be opened on Sunday morning on the east side of Belfast City Hall, at a special commemorative service to mark the centenary of the sinking.
It is the first time the names of everyone who perished has been recorded on one monument. Many existing memorials failed to include the Titanic crew or musicians.
There is no distinction on the memorial between first-class passengers and others on board. The names are simply listed in alphabetical order.
Intriguingly, two of the names have an asterisk beside them - Mr Thomas Hart and Mr John Horgan.
Kelly Frizell from Belfast City Council said: "The asterisk means that somebody was travelling under this passenger's name, but they weren't the actual passenger in question.
"Whether it's their true identity or not, a life is a life, and they lost their life. There's no other way to recognise them. We couldn't have left them off."
Secrets
Then real identities of Thomas Hart and John Horgan remain a Titanic mystery.
Ms Frizell spent almost a year researching the victims.
"The crew were the most difficult to research. It was a lengthy task, and took many hundreds of hours," she said.
"This the first monument with all 1,512 names listed in alphabetical order, so it's very significant. It's breathtaking looking at such a loss.
"It's emotional just looking at it."
Large wooden hoardings surround the garden, and will not be removed until Sunday morning.
However, the landscape architect Joy Hutchinson has revealed some of the secrets behind the fence in terms of the flowers.
She said: "We've gone for a colour scheme built around blue, white, silver and green, reflecting water and ice.
"It's to try to encourage a sense of peace and contemplation."
The garden will be free to visit.
It is ideally situated, right in the heart of Belfast on the east side of the City Hall.
Locals call it the 'sunny side' and there are seats for visitors to relax and ponder, while looking at the memorial.
From 06:00 BST on 15 April there will be live coverage of the Titanic commemorations on our Titanic live web page and from 06:20 BST on BBC Two NI and Radio Ulster. There will also be coverage on BBC Breakfast and on the BBC News Channel.