Ministers on business mission to Middle East and India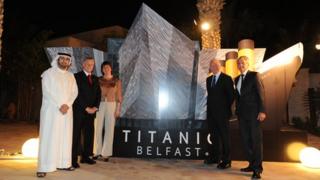 The first minister and the deputy first minister are on a five-day business mission to the United Arab Emirates (UAE) and India.
They are being accompanied by the Enterprise Minister, Arlene Foster.
The purpose of the visit is to generate export growth and stimulate further investment from the Middle East and India.
Ministers will also use the trip to promote Northern Ireland's tourism potential.
Speaking at the start of the visit First Minister Peter Robinson said: "The United Arab Emirates and India are important trading partners for Northern Ireland businesses.
"The visit provides an important opportunity to build on our growing reputation in global markets for quality products and services.
"Combined with a skilled, flexible and talented workforce we have a real opportunity not only to sell Northern Ireland as a place to do business but also for our companies to sell more internationally."
Deputy First Minister Martin McGuinness said: "Delivering economic growth through building strong economic relationships with key trading partners and businesses is a priority for the executive.
'Golfing destination'
"We have demonstrated through our successful visits to North America the value and benefit of maintaining and building relationships with international businesses and the importance of securing new market opportunities.
"This visit provides an opportunity to build on the quality and capabilities of the local companies already operating in these markets, as well as providing an opportunity to develop new business."
Mrs Foster said: "Supporting Northern Ireland companies and promoting Northern Ireland for trade, investment, and as a great tourist, conference and golfing destination are key tenets of our Programme for Government.
"We must begin to focus more on markets where there is the greatest potential to accelerate the growth of Northern Ireland's economy.
"It's a very special year for tourism in Northern Ireland and I am excited about launching NI2012 to coincide with the influx of visitors for the London Olympics and with new air routes opening from the region, we are expecting an increase in visitors from the Middle East and India."
The ministers' will visit Abu Dhabi and Dubai in the UAE and Mumbai and New Delhi in India.
They will have a range of engagements with existing businesses and potential investors.
In India, they will lead Invest Northern Ireland's latest business mission to the country.
During their five-day visit they will also launch NI 2012 in the cities of Dubai and New Delhi.
Listen to the full interview with Peter Robinson and Martin McGuiness on the NI Business News Podcast .