Poots launches social work strategy for Northern Ireland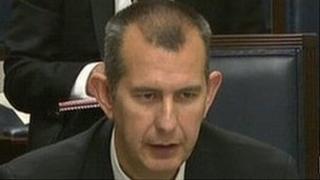 Health Minister Edwin Poots has launched Northern Ireland's first ever strategy for social work later.
The strategy confirms the role of social work in protecting children and vulnerable adults.
It also focuses on early intervention and family support.
The strategy sets out plans for change to strengthen the support for social workers in the frontline and to improve social work services.
It was launched at Queen's University in Belfast on Monday.
The recommendations include:
Development of a regional social work out-of-hours service;
Introduction of extended/flexible hours;
Strengthening integrated and partnership approaches in practice; and
Improving employer supports for frontline staff.
Mr Poots said: "Social workers help many vulnerable people in our society to live safer lives.
"They need our support and they deserve our appreciation.
"I am delighted to launch this strategy which sets out the direction for social work services for the future in Northern Ireland.
"It will help improve outcomes for service users, strengthen supports for frontline workers and improve the quality of social work services."