Five arrested at 'sham wedding' in Larne, County Antrim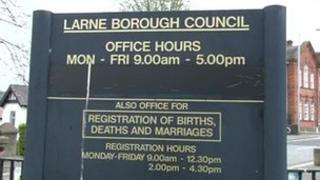 Five people have been arrested by officers from the UK Border Agency investigating a suspected sham wedding in County Antrim.
Investigators moved in to stop the wedding on Monday afternoon, half an hour before it was due to take place at the registry office in Larne.
The 26-year-old Portuguese bride and the 29-year-old Bangladeshi groom were taken to Ballymena police station.
Two female witnesses and a male guest were also detained for questioning.
The groom was arrested on suspicion of seeking to obtain leave to remain in the UK by deception.
His bride was detained on suspicion of assisting unlawful immigration.
The UK Border Agency has described a sham marriage as typically occuring when "a non-European national marries someone from the European Economic Area, or the UK, as a means of attempting to gain long-term residency and the right to work and claim benefits in this country".