Titanic owners sued by grieving father Thomas Ryan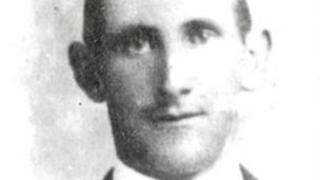 A County Limerick family say they feel "gobsmacked" that their great grandfather took the company that owned the Titanic to court and won.
Brother and sister Cormac Ryan and Fiona Lane only knew they had a relative who died on the ship's maiden voyage but they thought the connection ended there.
One-hundred years ago, their great-uncle Patrick joined the Titanic at Cobh in County Cork to make a new life for himself in the US. The cattle dealer was heading to New York to become a police officer.
Seventy-nine people who boarded at Cobh drowned when the ship went down, and Patrick was one of them.
A year later his elderly father - Thomas Ryan, who was a farmer in Askeaton, County Limerick - travelled to the High Court in London to sue for negligence.
'Shocked'
His great grand-daughter Fiona Lane says they had never been told anything about this.
"We were shocked and amazed when we heard about it," she says.
"We were thinking how did he have the money to pursue a case like this, taking on a huge company and that he actually won."
The case is not well-known today but it was featured widely in the press in 1913.
The ship's owners were found to be negligent on the grounds that the Titanic was travelling too fast despite receiving warnings of ice prior to the collision.
White Star Line still tried to get out of paying any money to the Ryan family because of a disclaimer on the back of Patrick's ticket, but the court ruled he could not have seen the terms and conditions because the ticket was bought by someone else.
Patrick's grand-nephew Cormac Ryan says they are still trying to take it in.
"I think the whole family are gobsmacked with the fact that this has happened and it has come to light 100 years after it happened - it's amazing stuff."
You can see this programme again on the BBC iPlayer and there is also a radio drama documentary, Ryan v White Star Line, on BBC Radio Ulster on Sunday 22 April at 13:30.