Farmers angry at ban on horse trading at Auld Lammas Fair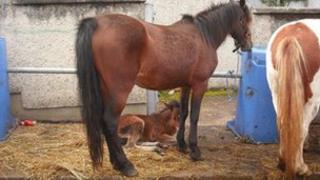 Moyle District Council has agreed to meet a delegation which has called for the ban on horse dealing at the Auld Lammas Fair to be overturned.
Horses have been sold at the Ballycastle festival every August for generations.
Last month, the council issued the ban following concerns about health, safety and animal welfare.
However, Vincent Traynor, of the North Antrim Riding Club, said farmers were disappointed.
Mr Traynor, who will be among the delegation who will address councillors in Ballycastle, said the decision had been taken without giving farmers a chance to put forward their point of view.
"It was a King-Chartered fair for farmers to come in and trade at the Auld Lammas Fair," he said.
"There's no doubt the committee of the Auld Lammas Fair has come under a lot of pressure by people making complaints.
"There could have been one or two people who could have come in and spoiled it to a certain degree, but this is where the farmers, and the people that trade there every year, weren't made aware that this situation was as serious."
Donkey show
When the ban came into force, Moyle councillor Randall McDonnell said the nature of horse trading had changed in the past 50 years and it had actually become "dangerous".
He said the council felt a much better option was a Shetland Pony Show on the first day of the event, and a Donkey Show the following day.
The fair, held in Ballycastle on the last Monday and Tuesday in August, has been running for about 400 years.
It has been growing in recent years with more than 400 stall-holders now catering for crowds in excess of 200,000.