Iraq-style bomb 'found for first time in NI'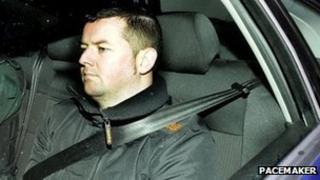 A bomb similar to those used in Iraq and Afghanistan was found for the first time in Northern Ireland 'ready for use', the High Court has heard.
It was found in a hedgerow in County Tyrone on 22 April 2011 and was packed with Semtex, the court was told.
Patrick Carty, 32, of Springdale estate, Dungannon, denies possessing explosives with intent to endanger life or cause serious damage to property.
He was refused bail in court on Tuesday.
Robert Blackburn, prosecuting, said: "It was described as viable and in a state of readiness.
"It's the first time that this device has been discovered in Northern Ireland. But it has been used significantly in Iraq and Afghanistan."
Objecting to bail, he argued that police feared he could link up with people intent on acts of terrorism if released.
Defence, Eugene McKenna, argued that the entire case against Mr Carty was flawed.
He said the case rested on fingerprints on a bag "of a type that are blowing through the streets of Northern Ireland every day".
Refusing bail, Mr Justice McCloskey said the objections were of sufficient strength to warrant the refusal.