Republic of Ireland fans from NI 'need not apply'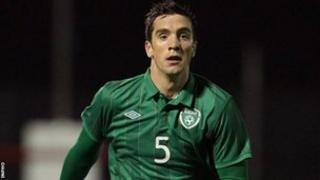 A competition to win tickets for the Republic of Ireland's Euro 2012 matches has been criticised for excluding the team's fans in Northern Ireland.
Iarnrod Eireann (Irish Rail) is offering a prize which include tickets to the Republic's groups games against Croatia, Spain and Italy in June.
However, the competition is only open to Republic of Ireland residents.
In response, Iarnrod Eireann said it was aimed at its core customer base and was "not at all discriminatory".
In addition to the match tickets, the winner will receive 1,000 euros spending money and campsite accomodation at Poznan in Poland.
The issue was highlighted by freelance journalist Michael Fisher, who claimed it was a "clear case of discrimination".
'No different'
Writing on his blog, Mr Fisher said those marketing the compeition "have not acknowledged the fact that hundreds of Ireland supporters are resident in some cases a few hundred yards across the border along the railway line between Dublin and Belfast."
Iarnrod Eireann issued a statement in response to the blogger which said that all of its competitions and promotions had "always been open to residents of the Republic of Ireland only, which is our core customer and potential customer base. This promotion is no different in this respect."
"It is not at all discriminatory as it is open to all residents of the Republic of Ireland, which is where we trade, over 18 years of age," the company said.