Police believe fatal fire 'was started deliberately'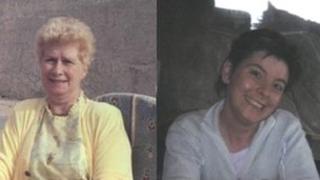 Police have said they believe a flat fire which claimed the lives of a mother and daughter in County Tyrone was started deliberately.
Elizabeth McGirr, 71, and her daughter, Deirdre, 38, died in the blaze at Dunlea Vale, Dungannon, at about 22:00 BST on Saturday, 14 April.
Deirdre McGirr's 36-year-old boyfriend escaped injury in the blaze.
Police said he was "lucky to escape with his life and he is not suspected of any involvement with the fire".
'Devastated'
At a press conference on Tuesday afternoon, officers said they were "keeping an open mind as to motive or reasoning behind the fire".
Detective Chief Inspector Gareth Talbot said: "We now believe this fire was deliberate and we are working to ascertain the exact details of what happened at this block of flats in Dunlea Vale."
He made a direct appeal to whoever was responsible for starting the blaze and said it was not too late to "do the right thing".
"It may not have been your intention to hurt anyone or things may have got out of control; I would ask you to search your conscience, consider the feelings of the McGirr family - please let them have some kind of closure around this and come forward to us and tell us what happened," he said.
Dungannon PSNI Area Commander, Chief Inspector Jane Humphries, said the local community had been "devastated by the deaths of Betty and Deirdre McGirr".
She assured people in the town that her officers were doing "everything in our power to find out exactly what happened at Dunlea Vale in Saturday night".
'Miraculous'
Answering questions from reporters, the officers confirmed that the 36-year-old man who escaped the fire had been in a long-term relationship with Miss McGirr.
"It is nothing short of miraculous that he was able to escape the flames and we are fortunate that he survived," DCI Talbot said:
The officers asked anyone who has information about the fire to contact them in Dungannon on 0845 600 8000 or call Crimestoppers on 0800 555 111.