Orange Order given £884,000 EU peace funds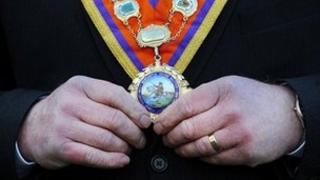 The Orange Order has been given a European Union grant of £884,000 to address the legacy of the Troubles in the Protestant community.
The money will fund a project aimed at marginalised Protestants living on the border or in interface areas across Ireland.
Seven staff will work on the Stepping Towards Reconciliation in Positive Engagement (Stripe) project .
It will be based at Brownlow House in Lurgan.
Drew Nelson, chairman of the Orange Community Network, welcomed the EU support.
"The Grand Orange Lodge of Ireland believes there is an imbalance of weak community infrastructure, low confidence and low levels of participation within the Protestant community, particularly in interface and border areas in Northern Ireland and the Republic of Ireland," he said.
"Grand Lodge also believes the Protestant community in interface and borders areas has suffered disproportionately during the Troubles.
"This project is about capacity building in the Protestant community and we greatly appreciate the support of the Special EU Programmes Body. An exciting part of the project will be identifying young leaders, building their capacity and developing their skills so that they can play a full role in shaping society."
William McKeown, grand treasurer, said it was "an unparalleled opportunity" to enhance confidence and enable the Protestant community to be part of meaningful cross-community and cross-border strategies aimed at building peace.
The money will come from the European Union's Peace III Programme.
"The ultimate aim is to allow the Protestant communities to become more comfortable in themselves and feel able to move forward with inter-community and cross border reconciliation," Mr McKeown said.