Plans to auction Collins hair and swab 'disrespectful'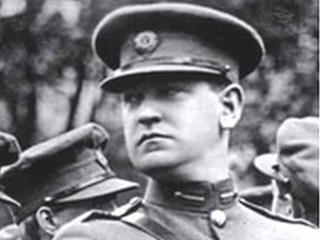 A grandniece of Irish leader Michael Collins has said she is appalled at plans to auction a lock of his hair and a cotton swab used to clean his corpse.
Former Irish MEP Mary Banotti was speaking on RTE radio's Morning Ireland programme on Tuesday.
She said selling the lock and, more particularly, selling the swab showed disrespect and insensitivity.
"I have spoken to several members of the family and they are universally upset," she said.
Ms Banotti said the proper place for the items was either in Glasnevin cemetery in Collins' grave or in a museum.
"I'm fully aware that taking locks of hair was part of the culture for many years, but not selling it for a huge price in an auction, that's really where I feel it shows a certain amount of disrespect and insensitivity.
"Whoever's selling the swab, I think that's... really appalling, in my opinion."
The two items are being sold by separate auction houses.
Michael Collins was shot dead in west Cork during the Irish Civil War on 22 August 1922. Comrades brought his body to Dublin by sea on board the steamship Classic.
His body was taken to St Vincent's Hospital to be embalmed by a team of pathologists before being removed to lie in state at Dublin City Hall.
Ciaran O'Boyle of Adam's Auctions, St Stephen's Green, Dublin, which is to sell the lock of hair on Wednesday, argued that the people who bought such items would preserve them.
"The buyers are people who are passionate about their history and this country," he said.
Mr O'Boyle said the lock of hair had been taken by Collins' elder sister, Kitty, as he lay in state. In the 1950s, it had been given to a friend of the family. It is expected to fetch 3,000 to 5,000 euros at auction.
Auctioneers Mealy's are selling the swab at an auction in Dublin next Wednesday.
Auctioneer George Mealy said that it was a framed swab of lint and cotton wool used to clean Collins's face which was kept by a nurse, Nessie Rogan, who worked at St Vincent's Hospital. It has been passed down though her family.
He defended the decision to auction it.
"It is something that is so evocative and so important and directly linked to Michael Collins," he said.
"It is a very sensitive item but the future of it will be secured. It will not be lost through the cracks of history. Whoever buys it will appreciate it.
"It is not about selling to the highest bidder but more about selling to someone who will know its importance and appreciate it and maintain its future existence."