Man jailed over pensioner robbery in Newtownabbey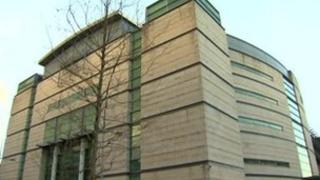 A man who stole an 80-year-old's pension money after pressing a cushion over his face has been jailed for 15 months.
Belfast Crown Court heard it was the second time in a month that 49-year-old William Ferguson had stolen money from his friend William Topping.
Ferguson, from Ards Drive in Newtownabbey, pleaded guilty to one charge of robbery.
He must also serve 21 months on supervised licence.
The court heard that on 20 July last year, Ferguson went to the pensioner's Newtownabbey home and asked for a loan of £20.
Prosecuting lawyer Ian Tannahill told the court the pair knew each other through a shared interest in gambling and horse racing and that on occasions, Ferguson would run various errands for Mr Topping.
However, following an incident where Ferguson stole cash from the pensioner two weeks previously, he was not allowed any contact with Mr Topping.
In the 20 July incident, the lawyer said Mr Topping refused to hand over any cash, telling his former friend "that all he had was his pension money" and asked him to leave but instead, Ferguson grabbed a cushion and pushed it over the pensioner's face.
The lawyer described how Mr Topping tried to reach his phone but was not able to and then lifted his walking stick as "he felt himself weakening," eventually breaking his attacker's grip by "grabbing Mr Ferguson between the legs".
Having let go of the cushion, Ferguson lifted Mr Topping's wallet from his shirt pocket, took out his pension money of £175 and walked out.
Arrested and interviewed Ferguson admitted what he had done.
Judge Patrick Lynch QC told him: "The courts have made it clear that the elderly will be protected within our powers to do so."