Edwin Poots offers Kieran McCarthy 'village idiot' apology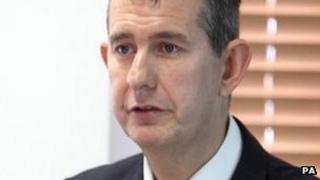 Health Minister Edwin Poots has offered to apologise for calling Alliance Party MLA Kieran McCarthy a "village idiot", the Assembly Speaker has said.
SDLP MLA Alban Maginness tabled a complaint about remarks made during a debate on the Royal Victoria Hospital.
William Hay said Mr Poots agreed to a private meeting with Mr McCarthy where he would make his apology, but the Alliance MLA had refused to attend.
Mr McCarthy said he turned down the offer as he wanted a public apology.
Mr Hay told the assembly on Tuesday he had reviewed the footage of the debate on 26 March.
"I do believe the language used did fall short of the standards I expect, and I have asked the minister to apologise.
"I convened a meeting in my office at which the minister indicated that he was prepared to come and apologise to the member.
"However, Mr McCarthy was unwilling to attend to receive and accept the apology.
"Let me also say that I am not happy with how other members have dealt with this issue.
"If something is referred to the Speaker, they should leave it until the Speaker has dealt with it.
"What members should not do is refer something to the Speaker and then go to the press, and almost try to second-guess what the Speaker's ruling might be.
"I therefore consider the matter closed because the minister agreed with my ruling and agreed to apologise."