Pizza Hut franchise on island of Ireland secured by management buyout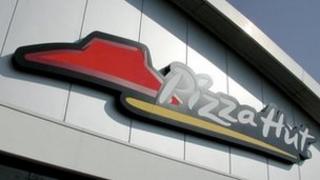 The future of the Pizza Hut chain in Northern Ireland and the Republic has been secured after the existing management of the franchise bought the business out of administration.
Ladbury Enterprises runs nine restaurants across Ireland. It was placed into administration last month and continued to trade.
In 2009 an earlier Pizza Hut franchise in Northern Ireland, Restaurant Management Services, went into administration and several restaurants closed with Ladbury taking over the rest.
The management buy-out safeguards more than 200 jobs.
The advisors on the deal were insolvency practitioners McClean & Co and solicitors McGrigors.
Laurence Spencer, the head of restructuring at McGrigors in Northern Ireland, said: "I am delighted that we have been able to play our part in making sure that the public on both sides of the border will continue to be able to enjoy Pizza Hut products.
"There remains a great deal of value in the business and this complex deal will safeguard a number of jobs both in Northern Ireland and the Republic of Ireland."