Could Zen Master at Stormont calm 'village idiot' row?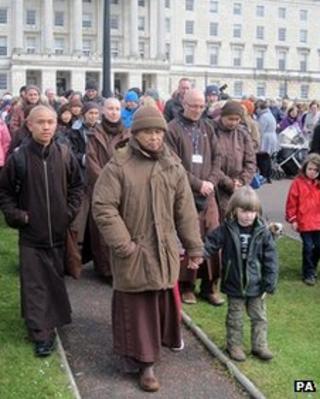 Everyone knows it is unparliamentary for a legislator to call another a liar.
That convention has got various politicians thrown out of their chambers, and the development of clever circumlocutions such as referring to someone else's "terminological inexactitudes".
But how about other, more general insults, such as labelling an opponent a "village idiot"?
Health Minister Edwin Poots used the term to describe comments made by Alliance's Kieran McCarthy during a debate on the provision of accident and emergency Services last month.
Other MLAs - notably the SDLP's Alban Maginness - complained about the term, but the minister declined the opportunity to withdraw his comment when interviewed on BBC Radio Ulster's Talkback programme.
The Speaker Willie Hay reviewed the matter over the Easter recess and on Tuesday afternoon ruled that the term "village idiot" broke the Stormont rules.
He ordered Minister Poots to apologise to Mr McCarthy at a meeting in his office. The minister agreed but Mr McCarthy refused to attend.
Mr McCarthy's point is that the insult was delivered in the assembly chamber, so the apology should also be delivered in public.
Supremely relaxed
The speaker - sounding a bit exasperated - has ruled the matter closed, so it looks like Mr McCarthy won't get the apology he wants.
An outsider might say the MLAs all need to calm down. In which case there was no better man on hand in Stormont than the supremely relaxed Vietnamese Zen master of Mindfulness, 85-year-old Thich Nhat Hanh.
Accompanied by around 300 followers, including brown-robed Buddhist monks, the Zen master strolled at a leisurely pace down the Stormont steps and past Carson's statue, a somewhat bizarre contrast in styles.
During a meeting in the Senate chamber, the Zen master, known as Thay or Tie to his followers, talked about the need for calm reflection to soothe the nerves, and how compassionate listening can assist peace negotiations.
MLAs gave him a respectful audience - indeed the Sinn Fein junior minister Martina Anderson appeared so enthusiastic that when she bowed to the Zen master I thought she was another acolyte.
Amongst those present was the Victims Commissioner Brendan McAllister, who told me he has found many of the Master's teachings relevant to his work resolving conflicts here.
'Cooling the flames'
I'm not a natural adherent of meditation and listening to prayer bells, but given Mr McAllister's long track record of successful mediation, I'm not going to scoff.
But if the experience was meant to spread calm all around ("Cooling the Flames" according to the Zen Master's leaflets), then it failed to work for me personally.
When we brought our TV pictures of the Zen Master back into the Stormont office, the computer said no.
The digital camera card was corrupted and so far no amount of deep breathing or imagining myself "as blooming as a flower", "as fresh as dew" or "as solid as a mountain" has brought my video back.
Zen master, your visit to Stormont raised my stress levels.
I intend to engage in a prolonged period of breathing in and breathing out. Perhaps Edwin Poots, Kieran McCarthy, Willie Hay and all the others exercised by the "village idiot" saga would care to join me.