Commercial Court judge criticises slow pace of business cases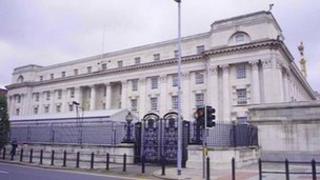 The judge who hears business disputes at the High Court in Belfast has criticised the amount of time it takes for cases to be prepared and completed.
Mr Justice Weatherup is the Commercial Court judge in Belfast and hears cases involving matters like business contracts and insurance.
On Tuesday he was hearing a case involving a dispute between a packaging company and a manufacturing firm.
The case has already been running for more than a year.
Delay
It faces a delay of at least another seven weeks while an expert report is prepared.
That prompted the judge to say: "I've had enough of this... if parties aren't ready it's their own fault."
He added that in the last two days he had taken "four or five" cases out of his list as delays make it unclear when exactly he will be able to hear them.
He said some cases in Belfast had been "going on for years" which compares unfavourably with the Commercial Court in Dublin.
The judge told the court that in that jurisdiction it "takes 22 weeks on average" from the entry of a case on the list to the conclusion of the action.
He added that almost all cases in Dublin are completed in less than a year.
The faster pace of the Dublin court may be influenced by its different rules such as only hearing claims of at least 1m euro.