Public Accounts Committee examines Stormont consultants spending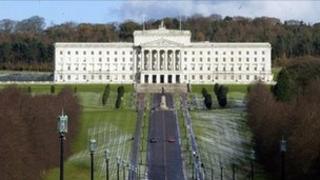 About 40% of government contracts which involved external consultants in Northern Ireland ended up costing more than their original price, according to a new report.
The Stormont Public Accounts Committee (PAC) found that while spending on external consultants has been significantly reduced, there were still many examples of poor practice.
The latest annual spend was £14m, compared with a peak of £42m in 2006/07.
The PAC report published on Wednesday looks at the extent to which the Department of Finance implemented recommendations contained in a February 2008 review.
'Value for money'
PAC chairman Paul Maskey said more needed to be done to ensure spending was "transparent, well-managed and represents good value for money".
"When the committee last looked at the use of consultants we found significant problems - costs more than doubled over the previous five years and it looked like expenditure was spiralling out of control," he said.
"Too often, external consultancy was used as an attempt to provide protection for civil servants' decision-making.
"I am pleased that this situation is now changing."
Finance Minister Sammy Wilson said he too wanted to see greater transparency over the use of consultants.
"The irony, of course, is that the only arm of government that doesn't comply with all the kind of scrutiny which my department wishes to undertake is the Northern Ireland Audit Office which provided the information for this report.
"They do not supply the information which enables us to look at the consultancy spend which they undertake," he said.
'Cost overrun'
The report singled out a consultancy contract on a new accounting system which extended to 10 times the original budget as an example of ongoing poor practice.
The cost of the Account NI project rose from £970,000 to £9.7m and Mr Maskey said the committee was "appalled" that the Department of Finance and Personnel "did not accept this represented a cost overrun".
"The committee is unambiguous on this matter - the project experienced a huge cost overrun and should have been retendered and opened to competition," he said.
"The lack of competition for almost £9m is simply unacceptable."
The report highlighted a number of areas where, it claimed, the Department of Finance and Personnel had failed to deliver promised improvements:
The PAC said the department had agreed in 2008 that Account NI would provide timely and accurate expenditure data "at the touch of a button" but this did not happen;
It said the majority of public spending remained outside Account NI and difficulties in providing good-quality data persisted;
It said about two-thirds of external consultancy contracts were still left without adequately addressing the issue of skills transfer;
Some business cases were still not being completed or were of an unacceptably poor quality, it found;
Questions remained about the quality and usefulness of the current process of post-project evaluation, it said.
Mr Wilson said his department had learned from the problems with the contract.
"It didn't happen with some of the other shared services because we did learn from the experience," Mr Wilson said.