Bus and rail fares in Northern Ireland 'set to rise'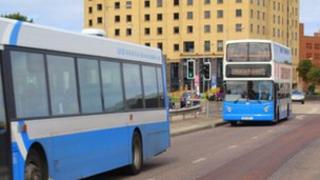 Fares on a number of bus and rail routes across Northern Ireland are set to rise.
An official from Translink confirmed the plans to MLAs during a Stormont committee meeting on Wednesday.
The official said the company intends to introduce a fares increase which will mean an average rise of 3% "across the organisation".
It will be Translink's first fare increase since June 2010 and they will take effect at the end of the month.
The official told the Department of Regional Development (DRD) committee that while the company had managed to keep fares at "modest levels", any increase was regrettable and would have an impact on users.