Prison officers injured in fight at Maghaberry Jail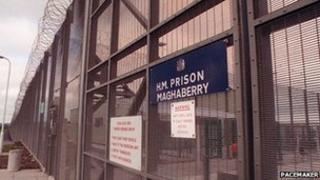 The Northern Ireland Prison Service has begun an investigation after three officers were injured during trouble inside Maghaberry Jail in County Antrim.
The incident happened when three inmates refused to go back into their cells after using phones just before 19:00 BST on Wednesday.
A scuffle then broke out. One prison officer was knocked unconscious, another was cut behind the ear and a woman prison officer was treated for shock.
They were taken to the Royal Victoria Hospital in Belfast but discharged after treatment.
The chairman of Stormont's Justice committee, Paul Givan, said the situation could have escalated.
"Thankfully, the situation wasn't worse because there were 30 prisoners who stood on watching," he said.
"Had they decided to get involved in that we could have been talking about something a lot more serious."