Belfast's new arts venue the MAC prepares to open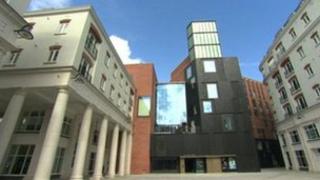 A newly-built arts venue in Northern Ireland is getting ready to open its doors to the public for the first time.
The Belfast MAC (Metropolitan Arts Centre), which cost £18m, is due open in the Cathedral Quarter on Friday.
The building contains two theatres, three visual art galleries, a dance studio, workshops, a cafe and a bar.
The MAC's chief executive, Anne McReynolds, said the centre would give the public free access to "world class art" seven days a week.
The six-storey building was designed by Belfast-based firm Hackett Hall McKnight, which won the UK-wide Young Architect of the Year Award in 2008.
'Unbelievable'
Ms McReynolds said her staff had been working towards the official opening for a very long time and were "very excited".
"The MAC is an unbelievable building, a wonderful addition to Belfast and Northern Ireland's cultural infrastructure", she told BBC Radio Ulster.
Among the highlights in the MAC's opening programme is a joint exhibition of paintings by L.S. Lowry and William Conor.
Both artists are reknowned for painting industrial cityscapes in the north of England and Northern Ireland respectively.
'Priceless'
Ms McReynolds said it had been a "massive job" to secure the L.S. Lowry paintings.
"In order to be able to borrow priceless art works you need to be able to meet all sorts of boring requirements, and we can do that because the galleries in the MAC are of such a high standard," she said.
Stormont's Department of Culture, Arts and Leisure (DCAL) contributed £11m towards the project, while the Arts Council of Northern Ireland invested £5.25m in the building
Ms McReynolds said: "Despite the fact there is public investment in our business model, we are already standing on our own two feet and are generating a very significant proportion of our income by ourselves."
She added that it had long been proven that arts organisation and arts activities in Northern Ireland were "an economic driver rather than an economic drain".