MPs sign motion to drop Peter Hain contempt case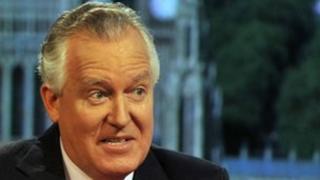 More than 120 MPs have signed a motion in the House of Commons criticising the Northern Ireland attorney general.
John Larkin is trying to prosecute former Northern Ireland Secretary Peter Hain over criticisms he made of a judge in his memoirs.
The Conservative backbencher David Davies has called for the proceedings to be dropped.
It has been backed by senior political figures including David Blunkett, Alistair Darling and Charles Kennedy.
On Wednesday, the former Home Secretary David Blunket criticised Mr Larkin's decision to take the contempt of court case and told the House of Commons that people were entitled to "fair comment".
Mr Larkin has been granted leave to prosecute Mr Hain and the publishers of his memories, over claims that a passage in the book "undermines the administration of justice".
The passage referred to Lord Justice Girvan's handling of a case which examined Mr Hain's appointment of a Northern Ireland Victims Commissioner.
In October 2005, Mr Hain announced that Bertha McDougall, the widow of a police reservist who had been shot dead by republican paramilitaries, had been given the job.
But Mrs McDougall's appointment was later challenged in court on grounds that she did not command cross-community support.