Gavin O'Reilly resigns from Independent News and Media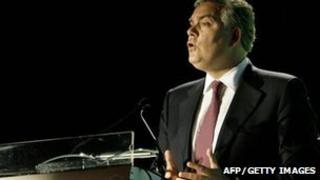 The chief executive of Ireland's biggest media company, Independent News and Media (INM), has resigned.
Gavin O'Reilly had been under pressure for months from the firm's major shareholder, Denis O'Brien.
INM was built up by Mr O'Reilly's father, Tony, and the family have run the business for 40 years.
Its titles include the Irish Independent, the Sunday Independent and the Belfast Telegraph.
Vincent Crowley, currently the chief operating officer, has taken over as chief executive with immediate effect.
There have been growing tensions on the board of the company with the directors effectively split into two camps - those supporting the O'Reilly family and those supporting the telecoms billionaire Mr O'Brien.
In recent weeks some of the INM titles, particularly the Sunday Independent, have been sharply critical of Mr O'Brien.
In a statement Mr O'Reilly said: "It had become clear that recent and public shareholder tensions were proving an unnecessary distraction for both me and the company and this was not in the best interests of the company.
"The board and I agreed that what the company needs now is a board, management team and shareholder base that is purposefully unified and aligned for the company's immediate challenges and for the many opportunities that exist in the future.
"I leave this great company with mixed emotions, and I want to particularly thank my work colleagues and friends across Australasia, Ireland, South Africa and the UK, who I have had the great honour and privilege to work alongside."
The company is now without an O'Reilly at the helm for the first time in the 40 years since Sir Tony O'Reilly bought the Irish Independent.
INM once owned the London-based Independent and its former editor Simon Kelner has described the move as "the sad demise of the O'Reilly newspaper dynasty".
In a tweet, Mr Kelner described the O'Reillys as "a family of huge integrity who believed in papers".