Attwood approves demolition of Athletics Stores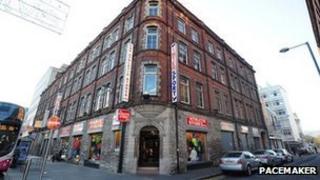 Environment Minister Alex Attwood has given permission for the Athletic Stores in Belfast to be demolished and redeveloped.
While the existing building is not listed, it is in a conservation area.
The Athletic Stores has been part of the fabric of Belfast city centre for generations.
The 19th century building will be knocked down and replaced by a modern apartment complex with ground floor shops and underground car parking.
Heritage campaigners have opposed the demolition plans.
Rita Harkin from the Ulster Architectural Heritage Society said the building was one of Northern Ireland's few tangible links with the city's industrial past.
"We are deeply disappointed that the minister has decided to approve the demolition of this 19th century linen cuff and collar makers' warehouse within the Belfast city centre conservation area," he said.
"His decision is surprising, too, given how, in recent months, Alex Attwood has strongly emphasised the vital role historic buildings play in generating economic prosperity.
"It should have been robustly defended by the department, not just for its own sake, but because of its acknowledged regenerative potential."
The minister said he regretted that the building will be demolished, but said it could not be saved.
"I believe very strongly in our built and industrial heritage and I put my money where my mouth is," he said.
"I've made strategic decisions within the department in order to protect, enhance or build on our natural heritage as I believe it's such a vital element of our economic and jobs opportunities going forward."
Mr Attwood said that, in his view, the building had serious structural flaws, was leaning into the street and could not be refurbished to provide units for modern living and working.
"This is a building that internally and structurally is not able to be brought into use and has a facade which in my view, as well as having difficulties structurally would be disproportionally expensive to retain it.
"The choice was to put the building on the market in a situation where all the evidence on that street, all the evidence in the property market suggests that it would go further into decline or decay which itself carries some health and safety risks, or make a decision regretting as I did, that in the circumstances of that street, this was the right decision to make."