Ramunas Balseris fails to have murder conviction overturned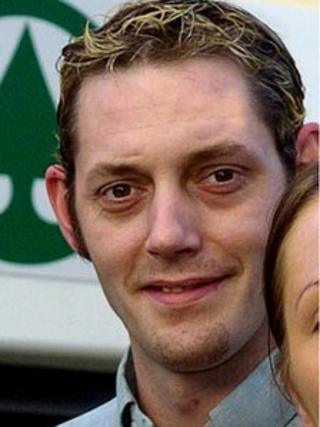 A man jailed for the homophobic murder of a County Tyrone supermarket boss has failed in his bid to have his conviction overturned.
The Court of Appeal dismissed Ramunas Balseris' challenge after finding compelling evidence that he was involved in beating Shaun Fitzpatrick to death.
Mr Fitzpatrick, 32, was attacked on his way home in Dungannon in March 2008.
In March 2010, Balseris, 28, was found guilty of his murder.
Fellow Lithuanian Andrius Dunauskas, 25, was also found guilty of Mr Fitzpatrick's murder.
The businessman was kicked and stamped on during two separate assaults, suffering 52 different injuries to his head, neck, chest and body.
The trial judge recommended that both men be deported after serving at least 20 years in prison.
He stated that even if Dunauskas inflicted most of the injuries, allegations that his co-defendant stood smoking during the second attack represented "chilling evidence of his callous disregard for their victim".
However, lawyers for Balseris argued that his conviction was unsafe and should be quashed.
They claimed bad character evidence of his alleged aggression towards the victim several months before the murder was wrongly put before the jury.
Balseris was supposed to have shouted angrily at Mr Fitzpatrick "I'm not gay" following an incident at a bar in the town in May 2007.
Active role
Counsel for the Lithuanian argued that introducing these details "infected" the trial process.
But Lord Justice Coghlin held that it provided a relevant historical background which enabled the jury to conclude he had taken a much more direct and active part in the fatal beating than he was prepared to admit.
It was pointed out that the evidence had established a prior contact "which might have provided an incentive or motive for the appellant taking a more substantial part in the attack because of a resentment about the deceased having made an earlier homosexual approach".
Lord Justice Coghlin, sitting with Lord Chief Justice Sir Declan Morgan and Mr Justice McLaughlin, also rejected an argument that the jury should have been discharged on the grounds of unfairness arising from cross-examination by counsel for the co-accused.
It was claimed this had suggested Balseris wanted to put a stop to Mr Fitzpatrick telling people in Dungannon that he had gay tendencies.
But the court found no substance in the appeal point and declared the conviction was in no way unsafe.
Lord Justice Coghlin added: "The learned trial judge was correct in his ruling that the bad character evidence relating to the appellant was admissible and, having done so, taken together with the forensic and other evidence, the case against the appellant became compelling."
A further hearing to challenge the minimum 20-year jail term was listed for June.