Investigation into 'indecent images' priest 'not finished'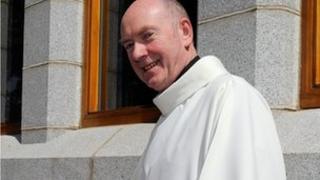 The Catholic Church has described a meeting in County Tyrone about the investigation of a parish priest as "inconclusive".
Father Martin McVeigh has been under investigation after indecent images were shown during a meeting at St Mary's Primary School three weeks ago. One child was present.
Parents met representatives from the Archdiocese of Armagh on Friday.
Fr McVeigh remains parish priest but is taking a temporary leave of absence.
It is understood that parents and parishioners were read a prepared statement from the Catholic Church which said that Fr McVeigh had been exonerated.
They also heard that the PSNI had found no crime had been committed and that Social Services had informed them there were no child protection issues.
Those present were told Fr McVeigh would continue as parish priest.
However, many parishioners present were unhappy with the statement.
Shortly afterwards an official statement released to journalists said the meeting had been "inconclusive", that another would be arranged and that the investigation into the affair was not yet complete.
Memory stick
In a statement, the Archdiocese of Armagh said Fr McVeigh, at his own request, has asked for temporary leave and Cardinal Sean Brady had agreed to his request without prejudice to any of the parties involved.
An investigation was launched after the indecent pictures were "inadvertently" shown during the meeting for parents in preparation for First Holy Communion.
The parents claimed the images were projected onto the screen from a memory stick the parish priest had inserted into a computer before the presentation.
The parents said Fr McVeigh quickly removed the memory stick.
The priest said he had no knowledge of the offending imagery.
Parishioners had wanted Fr McVeigh to attend Friday's meeting.