Ambulance off road after theft during west Belfast arson call-out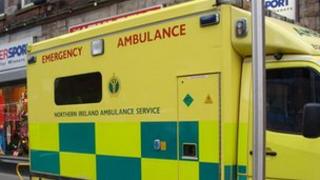 An ambulance targeted by thieves during a call-out to the scene of an arson attack in west Belfast will be off the road for several days.
Two vital pieces of equipment were stolen as the crew treated a man for burns in McDonnell Street at about 04:10 BST on Saturday.
The man's face, hands and feet were burned as he tried to put out the flames after a motorbike was set on fire at the back of a house.
His injuries are not life threatening.
John McPoland from the Northern Ireland Ambulance Service said a system which gives staff information about emergency calls and a sat-nav unit were stolen as the man was being treated.
He said such thefts should never happen.
"Because that equipment shaves vital seconds off any life saving emergency call we can't now use that particular ambulance until the equipment is replaced," he said.
"It'll be off the road for a number of days. But we will fall back on our reserve fleet and have a vehicle on the road immediately."
The police have appealed for any witnesses to contact them.