Seamus Heaney to mark Lyric re-opening anniversary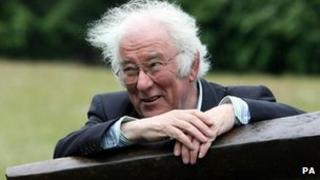 Nobel Laureate Seamus Heaney will take to the stage on Monday to kick off events to mark the first anniversary of the re-opening of Belfast's Lyric Theatre.
Heaney will deliver a lecture, Speak The Speech, to reflect the personal importance of poetry and prose committed to memory.
It marks the start of a fortnight's celebration of the new building's first anniversary. In 2009, the poet unveiled the threshold stone of the £18m building.
Heaney described the rebuilding as "a reminder of the vital artistic achievement in the past and the promise of ongoing creative vigour in the future".
The Lyric has won a string of awards for the design and architecture of its new landmark building.
However, it is not just the building that has been praised. The opening production, Arthur Miller's The Crucible, won two Irish Times Theatre Awards out of an unprecedented six nominations.
Richard Croxford, the Lyric's artistic director, said it had been a "whirlwind year".
"We have had amazing artists working with us throughout the last year supported by a fantastic team of staff here at the Lyric and it's been a pleasure to welcome such wonderful audiences to our beautiful building on the banks of the Lagan," he said.
Roisin McDonough, chief executive of the Arts Council of Northern Ireland, said: "The past twelve months have been a landmark time for the Lyric; an exciting phase in the history of this celebrated theatre."
During the anniversary celebrations, acclaimed Irish actor Stephen Rea will give a special one-off performance on 30 April, narrating The Third Policeman by Flann O'Brien.
On 3 May, the new comedy-thriller, The Civilisation Game, opens with a cast which includes Alan McKee, one half of comedy duo Grimes & McKee and Allie Ford, Give My Head Peace.
Written and directed by Tim Loane, creator of the hit Channel 4 series, Teachers, this is the first original new play to appear on the Northern Bank Stage and will run throughout the first anniversary month of the new building (3 -26 May).
On 5 May, playwright-in-residence, David Ireland, will present a reading of his new play Can't Forget About You in the Naughton Studio.
He will be joined on 6 May by six other writers and young directors who have been selected to produce short satirical and comic sketches in the first Lyric Write Night.