Bus drivers' unions in talks over Belfast strike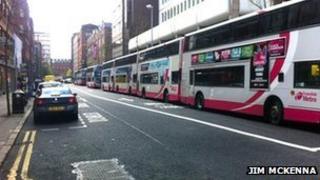 Unions representing bus drivers are due to have a meeting with Translink management on Monday following a strike in Belfast on Friday.
The action was taken after drivers complained that one of their colleagues had been unfairly disciplined.
The strike, which lasted for more than an hour, led to a build up of traffic around Belfast City Hall.
The action was called off after the drivers' union, Unite, said the suspended driver had been reinstated.