Conference to look at lessons from NI conflict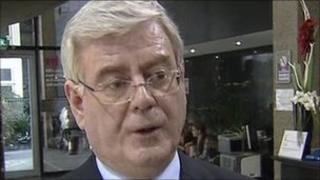 More than 40 countries are due to attend a high-profile conference examining the lessons of Northern Ireland for resolving conflicts elsewhere in the world.
The first and deputy first ministers and the Good Friday Agreement talks chairman, George Mitchell, will be among those addressing the conference, hosted by the Irish government.
The Irish Foreign Minister, Eamon Gilmore, said he acknowledged all conflicts were different.
However, he told BBC Radio Ulster's Inside Politics programme on Sunday that examining the Northern Ireland peace process could be valuable.
"What we want to do is, basically, for the people who are involved in those conflicts and the people who live in those areas, to get an understanding of what happened in Northern Ireland," he said.
"We're not trying to say that there were direct lessons or direct comparisons that can be made, but simply to hear the story of how the Northern Ireland peace process came about."
The conference is due to take place in Dublin on Friday.