Search for IRA murder victim Columba McVeigh continues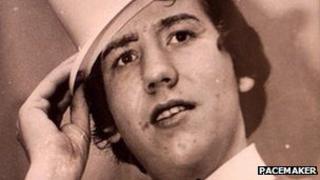 A search for one of the Disappeared - people abducted and murdered by republicans during the Troubles - is continuing in Bragan, County Monaghan.
Columba McVeigh, 19, from Donaghmore in County Tyrone, was kidnapped and killed by the IRA in 1975.
Search teams are concentrating on an area that was planted with trees shortly before the murder.
The area, near Emyvale in the north of the county, has been the site of three previous searches for Mr McVeigh.
It is close to the border with counties Tyrone and Fermanagh.
Three diggers are working to clear the land and a dog trained to locate bodies is waiting nearby.
Investigators have said the search could take up to four weeks and they hope this time it will be successful.
Geoff Knupfer, of the Independent Commission for the Location of Victims Remains (ICLVR), who is leading the investigation said the search was not based on new information.
"I think it's revisited or revised information," he said.
"We're looking at an area adjacent to the area we searched in 1999 and 2000 and we did some more work on that same site a couple of years ago.
"So really what we're doing is refining what we've done previously."
He said the area was heavily forested with trees planted around the time of the murder.
"The forestry authorities have very kindly removed the trees for us and we now have forensic archaeologists and contractors on the site removing the roots one by one so they can be examined," he said.
Graveyard
In June of last year, DNA tests were carried out on remains taken from a graveyard in Scotstown in County Monaghan.
However, the results showed it was not Mr McVeigh.
Speaking on Monday, Mr McVeigh's brother Oliver said he was convinced his body was in the area currently being searched.
"We are 100% certain but it's just a question of locating the spot in this bog," he said.
"It's still a big strain on the family and it was his mother Vera's wish to find her son that has kept us going.
"I can still see the anguish on her face. It will never leave me."
Vera McVeigh, who campaigned tirelessly for the return of her son's body, died in 2007 aged 82.
"I think she drove herself into an early grave with worry and broken-heartedness and disappointment," Mr McVeigh said.
The bodies of eight of the Disappeared - Jean McConville, Eamon Molloy, John McClory, Brian McKinney, Danny McIlhone, Charlie Armstrong, Gerard Evans and Peter Wilson - have been found since 1999.
That was the year the Independent Commission for the Location of Victims' Remains was established in a treaty between the British and Irish governments.
Seven other victims have still not been found.