Man charged with Norman Moffatt murder 'confessed to four people'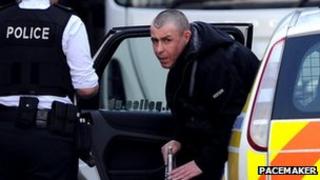 A man charged with murdering a pensioner in County Londonderry 11 years ago made confessions to four different people, the High Court has heard.
Norman Moffatt, 73, was stabbed as he walked home from buying a paper on Railway Road in Coleraine in January 2001. He died two months later.
James Alexander McCook, 42, with an address at Stonemill Terrace, Stockport, was arrested in Cheshire earlier this month. Bail was denied.
The accused's ex-girlfriend told the court on Monday she could identify him on CCTV footage of Mr Moffat being stabbed.
Opposing an application for bail, a prosecution barrister said police had acquired new information over the last two years.
One man claimed Mr McCook confided to him in 2002 that he had committed a stabbing murder in Coleraine, the court heard.
An ex-partner of the defendant told police he had a number of knives, including one he kept down his sock, according to the prosecution.
A woman, who was said to have lived with Mr McCook for more than four years, allegedly made a similar confession to her.
She viewed the CCTV footage and claimed to know it was him because of his walk.
The prosecution barrister said: "She said she could pick him out anywhere. She said she was 100% sure it was Mr McCook on the video."
Two other witnesses, a man and woman, have alleged that the accused admitted the killing to them.
"The various people I have mentioned don't know one another. They approached police independently," the prosecution added.
"The strength of the case now... is the cumulative effect of the evidence that has come to light."
A defence solicitor stressed that the murder charge was denied and disputed the case against his client.
He claimed there were questions over the credibility of the witnesses who, he said, included "nefarious individuals".
One of the men making the allegations against Mr McCook was later jailed for arson, the court heard.
The solicitor added: "I'm a little bit perplexed whether it's old or new evidence."
Mr McCook was refused bail due to possible re-offending or interference with witnesses.