NI Justice Minister David Ford defends Magillian closure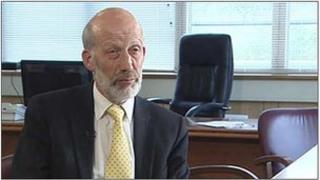 Justice Minister David Ford has defended plans to close Magilligan Prison, calling it "a relic of the 1970s H-blocks".
"Many of the ancillary buildings are in Nissen huts. The open section of the prison is composed of temporary buildings.
"Urgent action has to be taken," Mr Ford said.
He said the majority of prisoners were from the greater Belfast area and families found it difficult to visit.
"Part of the issue about rehabilitating prisoners is to enable contact with families," he pointed out.
Magilligan, near Londonderry, is Northern Ireland's second largest prison.
The prison service plans to replace it with a new medium security jail at a location closer to Belfast in six years' time.
It is part of a 10-year programme of reform that would cost about £240m.
Mr Ford said there would be objections about the impact of the closure on the local economy.
"What I have to do is look at what the overall needs of Northern Ireland are," he said.
The justice minister said it was also important to look in more detail at the needs of women and young offenders in greater detail.
However, the chairman of the Prison Officers Association, Finlay Spratt, condemned the proposals.
He said a recent review recommended that Magilligan be modernised, and that should not be overturned.
"This is a total waste of public money.
"Magilligan plays a very important part in the overall running of the prison service and what it offers to the inmate population, and it's certainly a bad blow for the north west."
DUP MP Gregory Campbell called for a new prison at the same site.
"£4m has already been spent by the prison service in preparation for replacing Magilligan prison at Magilligan.
"In this report, it is anticipated that another £2m will be spent on current and ongoing maintenance at Magilligan. That is a total of £6m spent which they then intend to waste by saying: 'We're going to move from Magilligan' and buy land they don't already own."
Mr Campbell said 400 people worked in Magilligan prison which, he claimed, was worth about £10m to the local economy.
"If they take up the offer of redeployment, the prison service will have to pay them to travel to Maghaberry for three years, at additional cost yet again compared to what would be the cost at Magilligan."
Magilligan currently holds more than 500 low to medium risk male prisoners, with six years or less to serve.
It first opened its gates to prisoners 40 years ago.
The plans for the future of Northern Ireland's prisons will be discussed by the justice committee at Stormont on Thursday, and then put out to public consultation for at least 12 weeks.