Northern Ireland Railway's farewell to old trains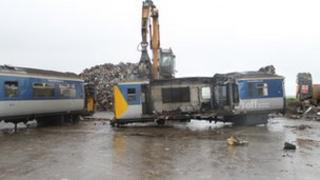 It is the end of the line for a series of Northern Ireland trains.
The old 450s have had their day.
For railway lovers, it means goodbye to the old-fashioned "thump thump" engine and the clickety clack of a train running along a track.
Modern computerised trains are swift, smooth and state of the art - the trouble is, you wouldn't know you were on one, some train lovers argue.
The first of Northern Ireland Railway's 450 class trains was broken up at the weekend and another faces the same fate next weekend.
NIR said the cost of repairing them would not have been economically viable.
The company said seven Class 450s remain and will be disposed of through a variety of channels, as yet to be confirmed.
Photographer and rail enthusiast Chris Playfair said: "They cut the trains in half at York Road depot in Belfast, put each half on the back of a lorry and bring them to Ahoghill for scrap,"
The old trains, brought over from British Rail in 1985 and using engines dating back to the late 1960s, carry special memories for thousands like Chris.
"From a passenger's point of view, you knew you were on a train," he explained.
"You'd have the thumper engine - essentially it went thump, thump as you went along.
"The trains were in service in the days when the train tracks would have all been jointed, so you'd get the clickety-clack, clickety-clack sound as well.
"The windows opened on those trains too. Now the modern trains are all computerised and air conditioned."
Chris said railway staff nicknamed the old trains, the "Castle Class".
They were named as follows: 451 - Belfast Castle; 452 - Olderfleet Castle; 453 - Moiry Castle; 454 - Carrickfergus Castle; 455 - Galgorm Castle; 456 - Gosford Castle; 457 - Bangor Castle; 458 - Antrim Castle and 459 - Killyleagh Castle.
"NIR had planned to name a unit 'Hillsborough Castle',but decided against doing so to prevent it being attacked during the Troubles," Chris explained.
The 450s also featured sliding doors that proved easier to open than the older trains with handles which were nicknamed "slam doors".
Chris said it would be great if a railway museum like Cultra could keep one of the old 450s, but it might be difficult to find the space.
"They were a good train and they served their time. A good buy and I grew up with them," he said.
But Chris's father, Noel, who has been driving trains for NIR for 28 years, is a little less sentimental.
"They were good in their day, but they have had their day," he said.
"The engines lasted a good 40 years and kept going. The trains were basic and uncomplicated."
However, as a driver, Noel has embraced the latest technology and is all for the new, fast, modern NIR trains.
"They are a lot more comfortable, both for drivers and for passengers," he said.
"Sitting in the cab of a modern train is like being in the cockpit for an airline pilot - it is so silent."