Danger warning as youths rig up stereo to lamppost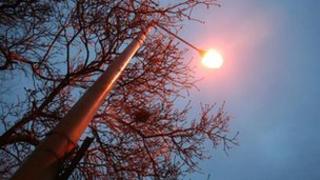 A police officer said young people are taking their "lives in their hands" by using electricity from street lighting to power music systems outdoors.
It follows an incident in Dunmurry, County Antrim, on 31 March.
Police found an inspection panel on a street light had been removed and a music system connected to the electrical wiring.
An 18-year-old man was later arrested by police. A file has been sent to the Public Prosecution Service (PPS).
Local Insp Mark Robinson said police were responding to a report of anti-social behaviour in the Glenkeen area when they discovered what had happened.
"This is an extraordinarily dangerous and foolhardy thing to do," he said.
"It may seem like a good laugh to use the street lighting to power sound systems out in the street in this way but those involved are literally taking their lives in their hands.
"By interfering with inspection panels they are interfering with unknown voltages and complicated wiring systems that could easily kill.
"By their irresponsible behaviour those involved are also placing the lives of other young people in danger.
Plea
"Leaving inspection panels removed with live electrical wiring exposed could have very serious consequences if a young child placed their hands inside."
Insp Robinson said the incident was not an "isolated one".
"We have had several similar calls in the Dunmurry area over recent years and I would urge the young people involved to stop, and stop now, before we're facing a tragedy," he added.
Michael George, chairperson of Sally Gardens, said the "issue has, and continues to cause serious safety issues for all those using our centre".
"Not only does it pose the obvious threat to life, but also the access to the centre is left in complete darkness for our volunteers and young people using the centre at night," he said.
"This is clearly impacting on the service we provide for the community, something those involved need to think seriously about."
A Department for Regional Development spokesperson said: "Electrical equipment and components within street lights are dangerous. Anyone deliberately tampering with the locked access door, which guards this equipment, is putting themselves at risk of serious injury, or death."
The Roads Service street lighting faults and emergency contact number is 0300 2007899.