Dunmurry man Trevor George lists 12 years of attacks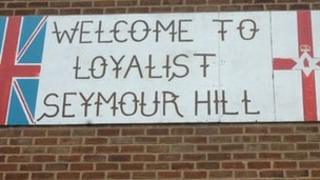 A Dunmurry man has compiled a 14-page list of attacks on his home dating back to the year 2000.
Trevor George has said he has been targeted by elements from Seymour Hill estate because he is in a mixed marriage.
The latest attack happened last Sunday when his wife, who is in her 70s, was subjected to sectarian abuse after returning from church.
She then had a wet sofa cushion which had been on the ground thrown at her.
It struck her on the head and shoulder.
"She staggered and only for the car she'd have fallen, which would have been very serious because she's had major surgery on both hips," Mr George said.
Incidents in the past have including a petrol bombing and paint bombs thrown by masked men.
"It has tailed off in recent years - it's not as bad as it was in 2002 or 2003, they were the really bad years," Mr George said.
"But we're still getting four or five every year.
"It's an ongoing thing and you never know the minute when it's going to happen."
Mr George said there had also been thefts from his property and he felt nothing was being done to stop the attacks.
"They've stolen a boat - a dingy - they've stolen a motorised go-kart belonging to my son," he said.
"It's a real rogue element out of that estate that's doing all this. I don't understand why the police can't stop this."
In a statement about the incident on Sunday, police said: "A woman in her 70s was left shaken after youths shouted sectarian abuse at her in Dunmurry on 22 April.
"The lady was also struck by a piece of foam thrown by the youths during the incident at Ballybog Road.
"Police are currently investigating and would encourage anyone who can identify the youths to contact them on 0845 600 8000."