Banbridge studio hosts US smash Game of Thrones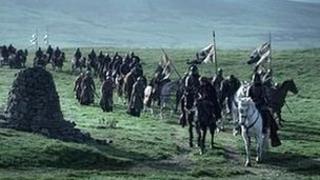 A former stalwart of Northern Ireland's linen industry is now playing host to an award-winning American TV series.
Game of Thrones has returned to Northern Ireland to film a third series.
HBO uses 75,000 square feet of the former Ulster Weavers bleachworks factory in Banbridge for filming, as well as 10 acres of the surrounding countryside.
Construction and preparation are just re-starting at the Linen Mill Studios.
It used to employ 140 people before closing as a linen processing plant in 2008 - now only seven work there on the linen-selling business.
Robert Wilson, director of development at Linen Mill Studios, said they hoped to make the best use of this factory once the linen business vacated it in May 2008.
"We had the option of a major transport hub, we had the option of a global part distribution centre and both of those things were attractive," he said.
"We had film and television as an option because of the sheer size of the chambers and the fact that we're sitting on 23 acres and it's a lovely quiet part of County Down.
"It seemed like it might work so we went to the big TV companies in America."
He said the credit for getting HBO goes to Northern Ireland Screen who introduced them.
"It's been very good fun, it's been very hard work, HBO are a great tenant.
"Working with Northern Ireland Screen and HBO has been very rewarding, it's been tough - we've been on a steep learning curve for a year," he said.
Mr Wilson said there could be as many as 550 people working at the studios each day.
"They're some of the hardest working people I've ever come across and I've been in business for 30 years," he said.
The presence of an all-star cast has led to some strange encounters at the Banbridge site.
"We were in a meeting in my office and one of the girls jumped out of her chair and screamed, because Charles Dance had just gone past the window on a white horse in full battle gear," Mr Wilson said.
Laurence Ruddock had worked in the bleaching works since 1979.
He was made redundant in 2008, but is now back as a storeman.
Mr Ruddock said it was good the factory was being put to use.
"That's life. Everything changes, everything has its time and moves on," he said.
"It's good to see the film crew here. If it wasn't, this factory would probably be deserted and flattened."