Make me a spy in Ireland says Errol Flynn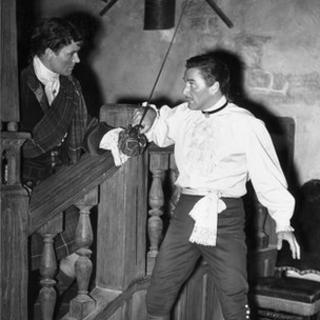 Swashbuckling star of the silver screen Errol Flynn harboured a secret ambition for a side-line career.
"Put me in uniform, send me to Ireland and make me a spy," he asked the US President Franklin D Roosevelt.
The movie star with legendary sex appeal wanted to charm his way into Irish secrets during World War II.
He wrote a letter to Col Bill Donovan, head of what became the CIA. It was later passed on to President Roosevelt.
Prof Tony Emmerson, former head of American Studies at the University of Ulster, came upon the letter at the Presidential Library in New York.
"Flynn suggests he be put in army uniform, sent to Ireland and that, effectively, he become a spy," he explained.
"He suggests that because he is so famous and engaging, people will talk to him and they'll be indiscreet.
"He writes that Brigid O'Toole (the typical Irish woman) has only the vaguest idea whether the Panama Canal divides America or Africa but she does know 'without a shadow of a doubt that Clark Gable cherishes a marked antipathy to striped underwear and that Hedy Lamarr wears a false bust'.
"Irish people are so mad about movies they will engage with Errol Flynn the great Hollywood actor and speak loosely."
But his appeal fell on deaf ears.
"His letter was not received very well. Roosevelt knew Flynn vaguely and believed he had Nazi sympathies before the war, so he didn't trust him," said Prof Emmerson.
He explained that in 1938, Britain had lost control of three Irish ports and Churchill was desperate to get these back.
"Flynn is suggesting he could do something to help that effort to bring those back under allied control," said Professor Emerson.
He also used the fact that his father, who was professor of zoology and dean of the faculty of science at Queen's University, Belfast and was well known and received on both sides of border.
This would give him an added way into Irish society, he argued.
Indeed, Flynn's father lived in the Stranmillis area of Belfast and his son was a visitor to the city.
"The story is that Errol behaved badly in Botanic Gardens and was banned. I'm not sure if that was true or not," said Prof Emmerson.
He is due to give a talk, The Arrival of the Americans in Northern Ireland during World War II, in the Drama Studio at Stranmillis College , Belfast, on Wednesday at 13:00 BST. Admission is free.