Arrests follow Cavan prison escape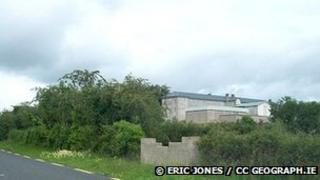 A PSNI helicopter and dog handlers were involved in a border search operation on Tuesday after three inmates escaped from an open prison in County Cavan.
All three of the escapees from Loughan House were arrested on Tuesday night.
On Wednesday morning, Northern Ireland Justice Minister David Ford said one had been arrested in the Enniskillen area of County Fermanagh.
However, a Garda spokesman said all three were arrested in the Republic.
In a statement he said: "Three males absconded from Loughan House at approximately 17:45 BST and were captured at approximately 20:30 BST, all south of the border.
"The absconded persons were apprehended with the assistance of the PSNI."
A PSNI spokesman said they had been contacted by the Garda to say three men were "unlawfully at large near the border".
"The operation between An Garda Siochana and the PSNI resulted in the three men being detained a short time later," he said.
"The police helicopter, police dogs, road policing and local police in Enniskillen were all involved in this operation."
Last month, Martin McDermott, who was convicted of the manslaughter of an Irish police officer, also escaped from Loughan House.
He was later arrested in Londonderry.
Mr Ford praised the joint policing operation which led to Tuesday's arrests.
"The success of this joint operation underlines the excellent co-operation that exists between the PSNI and the Garda and I would congratulate those officers involved," he said.
"Through their good policing, these three prisoners were quickly apprehended and returned to custody."