John Mongan murder accused Thomas Stokes gets bail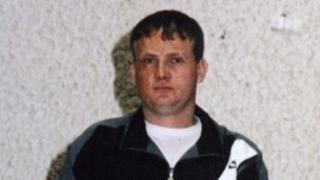 A man charged with the murder of west Belfast man John Mongan was charged following new information from a husband and wife, a court has heard.
Mr Mongan was hacked to death in front of his pregnant wife and his seven-year-old daughter at their Fallswater Street home in February 2008.
Thomas Stokes from Old Fort, Londonderry, successfully applied for bail at the High Court on Wednesday.
His father is currently serving a life sentence for the killing.
Thomas Stokes was granted bail but banned from leaving his home city.
Mr Mongan, 30, suffered up to 50 wounds in the fatal attack, inflicted by hatchets and some possibly by a sword or machete.
During the bail application a judge was told the two new witnesses originally did not co-operate with the murder investigation.
But recently the husband and wife contacted police to make statements allegedly implicating him in the killing.
The couple, now living outside Northern Ireland, claim the accused was among four people who arrived at their Belfast home on the night of the murder and asked where Mr Mongan lived.
Phone call
The men left after finding the address through a car sales magazine, the court heard.
Philip Henry, prosecuting, claimed an 11-second phone call was made to the couple after the attack asking: "How is John now?"
He said the caller hung up on being informed the victim was dead.
Further evidence involves allegations from a man on remand for a child killing.
Mr Henry said: "He gave an account of being contacted by a local figure in the Fermanagh criminal underworld and asked to pick up four males in Irvinestown, Fermanagh."
This location was allegedly close to where an Izuzu Trooper SUV suspected of being used by the killers was found burnt out.
Descriptions were given, but not the names of the men said to have been collected, the court was told.
Bail was opposed due to fears of possible interference with witnesses.
Joe Brolly, defending, disputed the level of risk, saying: "We were told these witnesses are not living in this jurisdiction or in the south of Ireland."
Mr Brolly also attacked the credibility of the new witness accounts, setting out the different versions they gave to police four years ago.
Lord Justice Coghlin ruled that Thomas Stokes be granted bail on two cash sureties of £2,000 each.
Imposing curfew and electronic tagging conditions, the judge also ordered: "He will not leave the city of Derry under any condition apart from court appearances."
In December 2009, Thomas stokes' father Edward Stokes, 40, Christopher Stokes, 36, and 19-year-old Martin Stokes were found guilty of the murder.
Martin Stokes later successfully appealed the conviction due to conflicting witness descriptions and a sense of unease about the safety of the verdict.
He is currently out on bail awaiting a retrial later this year.