Air passenger duty 'unfair burden' says Consumer Council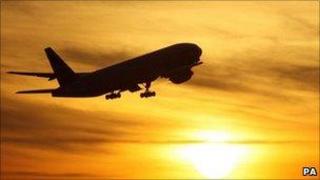 Air passenger duty is an "unfair burden" on Northern Ireland passengers, the Consumer Council has told MLAs.
Chief executive Antoinette McKeown was addressing the Finance Committee at Stormont on Wednesday.
Ms McKeown said any reduction should not be taken out of the block grant.
She said it was not fair that Northern Ireland would not benefit from £35bn of public money being spent on a high-speed rail network in Great Britain.
'Dependence'
Her colleague Aodhan O'Donnell said Northern Ireland's dependence on air travel was much higher than the rest of the UK, and the disparity in the cost of taxes when flying from Belfast and Dublin needed to be taken into account.
Last November, air passenger duty (APD) rates were cut to £12 per passenger in economy and £24 for business and first-class passengers for direct long-haul routes from Northern Ireland airports.
This is in comparison to the Republic of Ireland's air travel tax, which is three euros to any destination.
Mr O'Donnell welcomed the reduction but said 98% of passengers were unaffected by the change.
The committee also heard from the Federation of Small Businesses' Roger Pollen, who suggested Northern Ireland should have the power to set its own devolved rates.
"The geographical location in Northern Ireland, whereby all business travel with the rest of the UK incurs an APD charge in each direction, makes internal UK business significantly more expensive," he said.
Sinn Fein's Mitchel McLaughlin said not enough attention had been given to the benefits of reducing the tax.
"We can actually road-test this with a modulated approach where we introduce a reduction and we calculate both the costs and the benefits," he said.
In response to a question from Ulster Unionist Leslie Cree, Belfast International Airport's business development director Uel Hoey said companies would have the confidence to invest if there were plans to phase out the duty.