Smithwick Tribunal hears more claims about Martin McGuinness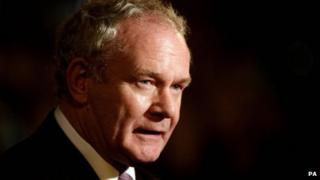 Martin McGuinness was involved in authorising "human bomb" attacks, a ex-intelligence officer has told the Smithwick Tribunal.
Ian Hurst - also known as Martin Ingram - told the tribunal that contrary to Mr McGuinness' claims, he did not leave the IRA in the 1970s.
More evidence given in private last week has been read into the tribunal.
Similar allegations which emerged on Tuesday were rejected by Mr McGuinness.
A Sinn Fein spokesman said Mr Hurst's claims were "more lies from an individual with a highly dubious track record".
The tribunal was established in 2005 to investigate allegations of Garda collusion in the murders of RUC Chief Superintendent Harry Breen and RUC Superintendent Robert Buchanan.
'Officer commanding'
According to evidence read at the tribunal on Wednesday, Mr Hurst claimed Mr McGuinness had still been officer commanding of the IRA's northern command for "the vast majority of the time".
Under cross-examination, Mr Hurst reiterated his belief that the murders of Chief Superintendent Harry Breen and Superintendent Bob Buchanan by the South Armagh brigade of the IRA would have to have been authorised by the IRA's Northern Command, becuase they would have needed "political cover".
He told the tribunal that "human bombs (were) also authorised by Martin McGuinness... he controls northern command for the vast majority of the time.
"Contrary to what he'd have you believe that he left the IRA in the 70s, it's not true. He was a member of northern command and the Provisional IRA Council responsible for controlling people like Mr Scappaticci," he said.
Mr Hurst also claimed that Freddie Scappaticci was the Army agent within the IRA known as Stakeknife.
He said Mr Scappaticci may have been aware of the plan to kill the RUC officers in advance, but he had no evidence of this.
The tribunal also heard that British intelligence services collected information on a 32-county basis, and had sources in the Republic ranging from a senator to revenue and customs officials and members of the Irish army and gardai.
Contradicted
Mr Hurst's former superior officer in the Force Research Unit also gave evidence to the inquiry in a private session, and part of this transcript was read out on Wednesday.
The man, known as Witness 82, contradicted much of the evidence given by Mr Hurst.
Witness 82 denied he was the source for much of Mr Hurst's information, and rejected claims he was the handler for Stakeknife.
Mr Hurst claimed he had seen 10 pieces of intelligence linking two gardai with the passing of information to the IRA, something which did not "register highly on the Army's Richter scale".
However, Witness 82 said he had never seen any such intelligence and if it had existed it would have been treated very seriously.
Mr Hurst also claimed Witness 82 had told him that former Dundalk garda Owen Corrigan - who denies the allegations against him - was being handled by Stakeknife, and that both men were involved in the ambush which led to the two murders.
Witness 82 said he was not aware of this conversation and was highly sceptical about it, as to the best of his knowledge he had never been in possession of such information.