John O'Dowd confirms Dunmurry High school will close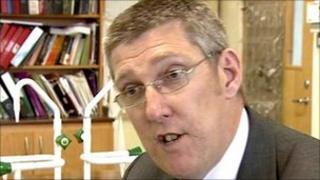 Dunmurry High school on the outskirts of Belfast is to close, the Education Minister John O'Dowd has confirmed.
The school had been under threat of closure for some time and staff and parents had campaigned to keep it open.
The principal, Mervyn Magee, said the decision had brought a "great degree of sadness" to staff and pupils.
However, Mr O'Dowd said it had suffered from declining enrolments in recent years and it was in the best interests of pupils to close the school.
The recommended minimum number of pupils in a secondary school is 500, but there are now only 110 pupils attending Dunmurry High.
It is also in a process known as formal interventionbecause of its financial and educational problems.
'Relief'
Mr Magee said the school had served the community of Dunmurry for 44 years and described the decision to close it as "very unfortunate".
However he added that the sadness the staff and pupils felt was "tinged with relief" because they could now move on to new schools and new jobs.
Sixty pupils were due to return to Dunmurry High next September and about half of them have now found new schools.
Of the 22 teachers, some are retiring, some have found teaching posts elsewhere, but ten are still looking for new jobs.
Mr O'Dowd said he had sought assurances from the education and library boards involved that they would work together "to ensure that post-primary provision in the controlled sector in the area is strategically planned to deliver a high quality experience for these pupils as they enrol in their new schools."
"I am sure that all those involved, including parents and school staff, will work hard to ensure a smooth transition for the children to their new schools and I wish them all the best in the future," the minister said.