17 jobs lost with closure of Mourne Granite Ltd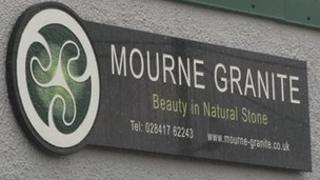 A County Down company has confirmed that it has stopped trading with the loss of 17 jobs.
Mourne Granite Ltd started trading in Kilkeel in 2003 and manufactured work tops, floor tiles and memorial stones.
In a statement, the company blamed the closure on an "overall downturn in business" and a recent legal case.
Director Suzanne McDowell said the decision had been made with "deep sadness and disappointment" and she paid tribute to her former employees.
She said: "I am the fourth generation of my family in the stone business and having to close Mourne Granite Ltd after just ten years in operation has been very hard.
"Our skilled workforce has been amazingly hard-working over that time and each and every employee has been so understanding, despite the hard loss of jobs and livelihood.
"Many came to me after I had to break the news and shook my hand. This is a tragedy for everyone involved".
'Desperate'
In a statement, the company said its trading difficulties had been compounded by a legal case which ended in March.
It said the financial implications of the case had "ended any opportunity to save the company".
"Despite a heavy personal financial investment by the owners over the last year it was impossible to overcome the events of the last five months", the statement said.
UKIP councillor Henry Reilly, who lives in Kilkeel, described the news was a "hammer blow" to the Mourne area.
"When a company like this goes to the wall it shows how desperate things are for the business community in this area," Mr Reilly said.