Bid to cut fatal farm accidents in Northern Ireland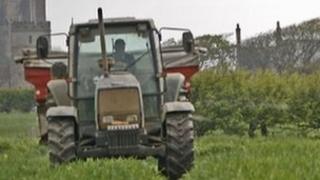 The farm industry needs to do more to tackle the number of people killed in accidents, the new Ulster Farmers Union president has said.
Harry Sinclair said an average of one person a month is killed on Northern Ireland's farms.
In the past few days, Claudy man Herbert Rosborough became the third person to die this year on a farm.
He lost control of his tractor while spreading slurry.
Mr Sinclair told the BBC's Good Morning Ulster programme: "Unfortunately, we have seen two more tragic deaths within our industry last weekend.
"I would like to see the industry doing something about reducing fatalities.
"It's one of the things I would like to see being reduced, if not eradicated, over the next short period of time."
Last year, 34 people - 12 in Northern Ireland and 22 in the Republic - lost their lives in farm accidents.
Meanwhile, Anne Torrens has spoken publicly for the first time about the death of her daughter three years ago.
Nine-year-old Alison Torrens from Drumquin was killed by her father's tractor in a freak accident.
Ms Torrens told BBC Radio Ulster's Farm Week Live she first suspected that something was wrong when she heard her husband's tractor "coming in, really, really fast".
"It was Mervyn, her father," she said. "He said, 'I've killed Alison'."
Ms Torrens said her daughter had been killed when she fell over a roller at the back of the tractor.
"She was lying on the gallop and I knew when I saw her that she was dead," she said.
"When they were working with her in the ambulance, I said, 'Alison, don't come back'.
"She's happy where she is now, she wouldn't have been happy if she had stayed."
'Every parent's nightmare'
She said her two daughters, when going to see their father working, would normally go up the lane but took a different route that day.
"Mervyn was levelling the gallop to work the horses the next morning.
"He was busy watching the front wheels, he didn't see them coming up behind.
"She jumped up on the back of the roller and fell in over the front and the roller went over the top of her."
Ms Torrens described her daughter as "an angel sent here for a reason and her time was finished".
"She still touches a lot of people's hearts yet," she said. "She was just one of those girls, who if they just spoke to you, you had an everlasting memory in your mind.
"It's just one of those things, it's a freak accident and you just have to live with it.
"It's every parent's nightmare."