Downpatrick St Patrick's Centre chairman set to resign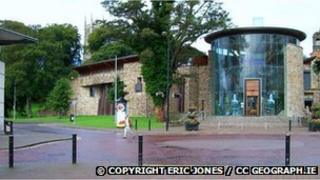 The chairman of the board of St Patrick's Centre in Downpatrick is to resign, the BBC understands.
The move by Jack Ferris comes as the tourist attraction's future remains uncertain following a meeting between its board members and councillors.
However, the chairman of Down District Council confirmed it would not close on Monday as was previously feared.
After Wednesday's meeting, both sides issued a joint statement describing their discussions as "fruitful".
'Unity of purpose'
They said they had a "unity of purpose" to ensure the centre remained open.
Mr Ferris told the BBC that he had indicated his intention to quit and would submit his resignation at the next board meeting, for which no date has yet been set.
It is understood the board held talks after the meeting with Down District Council.
Asked why he was resigning, he said: "I would prefer to keep that private.
"I said last night I would be issuing no statements on either the meeting or my own position. I have held my integrity throughout the time, and I will continue to the end that way."
Mr Ferris said he felt very fortunate and privileged to have led the centre.
"I think it has come a long way in that time and I would like to see it progress," he said.
The County Down centre was under threat of closure as early as next week due to funding shortages and a series of cuts to its council grant.
Its financial problems were outlined at a separate meeting of Down District Council on Monday night, when a further £20,000 reduction in the council's contribution to the centre was discussed.
It is understood the consequences of closure would be the immediate cancellation of all bookings from tour operators, including 252 coach groups which are due to visit.