Two men sought over Dungannon fatal fire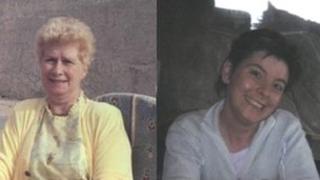 Police investigating the deaths of a mother and daughter in an arson attack in Dungannon have said they want to identify two men seen in the area.
Elizabeth McGirr, 71, and her 38-year-old daughter, Deirdre, died in a blaze at a flat in Dunlea Vale in Dungannon on Saturday, 14 April.
The funerals of the two women took place in Edendork on Thursday.
DCI Richard Harkness said the community had given a "significant response" to their appeals for information.
He said the "picture is not completely clear" and detectives needed to speak to two men to eliminate them from their enquiries.
Police issued descriptions of the two men they want to question.
• The first man was seen in Dunlea Vale at about 21:30-22:00 BST on Saturday 14 April. He is said to be about 5ft 8, slim, with swarthy skin. He is thought to be in his early 30s and was wearing a pulled-up black hoodie with a white motif on the front.
• The second man was seen at around 02:00 BST on Sunday 15 April in the same area talking on a mobile phone. He is said to be about 6ft, slim, with dark skin and thickish black hair. He was wearing a light grey sweater or hoodie-type top and dark coloured bottoms. He is thought to be about 30 years of age.
DCI Harkness said they were still working to piece together the chain of events on the night.
"We are particularly interested in talking to anyone in the Dunlea Vale and Dunavon areas who has had their wheelie bins interfered with or set on fire in the past two years or has seen young people starting fires," he said.
Elizabeth McGirr, who is known as Betty, was visiting her daughter's flat when the fire broke out at about 22:00 BST.
Deirdre McGirr's 36-year-old boyfriend escaped from the fire and is not suspected of involvement.