Martin McGuinness would testify at Smithwick tribunal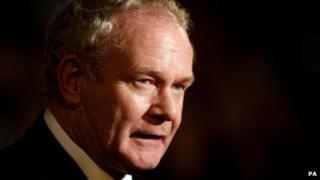 Deputy First Minister Martin McGuinness has said he would be prepared to testify at the Smithwick tribunal if asked.
However, he said he had nothing to tell about the murder of the two police officers being examined by the tribunal.
Mr McGuinness was speaking on the fringes of an international conflict resolution conference in Dublin.
Representatives of more than 40 countries are attending.
Earlier this week, Sinn Fein said Mr McGuinness rejected claims at the tribunal that he was involved in authorising the IRA murder of two RUC officers, Chief Superintendent Harry Breen and Superintendent Bob Buchanan in 1989.
Mr McGuinness said on Friday: "I made it clear some time ago if there was a need for me to (attend), I would be prepared.
"But I thought I had absolutely no contribution to make whatsoever.
"It's an incident I know absolutely nothing about."
The conference is examining the lessons of Northern Ireland for resolving conflicts.
It is being hosted by the Irish government, as part of its chairmanship of the Organisation for Security and Cooperation in Europe.
Since the signing of the Good Friday Agreement in 1998 there has been great international interest in whether any of the lessons of the Northern Ireland peace process can be applied elsewhere.
Stormont politicians have travelled to places like Spain's Basque region, Sri Lanka, and the Philippines to share their insights, whilst a steady stream of foreign delegations have passed through Belfast.
Reconcile
Four years ago, Mr McGuinness visited Baghdad as part of a bid to reconcile warring Iraqi factions.
He is attending Friday's conference in Dublin along with First Minister Peter Robinson.
Delegates will also hear from former US Senator George Mitchell, who chaired the Good Friday Agreement talks and served as President Obama's Middle East peace envoy.
Other speakers include Northern Ireland Secretary Owen Paterson, the Irish Foreign Minister Eamon Gilmore, the Stormont Justice Minister David Ford and security chiefs from both sides of the border.
Speaking to the BBC ahead of the conference, Mr Gilmore acknowledged all conflicts were different.
However, he told BBC Radio Ulster's Inside Politics programme on Sunday that examining the Northern Ireland peace process could be valuable.
"What we want to do is, basically, for the people who are involved in those conflicts and the people who live in those areas, to get an understanding of what happened in Northern Ireland," he said.
"We're not trying to say that there were direct lessons or direct comparisons that can be made, but simply to hear the story of how the Northern Ireland peace process came about."