Lissue House and Forster Green leaks inquiry cost £33K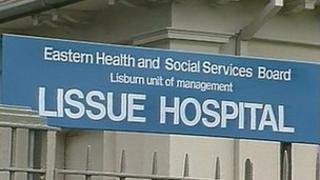 An investigation into the safeguarding of personal and confidential information in the NHS cost £33,000, the Health and Social Care Board (HSCB) has been told.
The inquiry followed the leaking of documents which exposed allegations of years of abuse at two former children's hospitals, Lissue House in Lisburn and Forster Green Hospital in Belfast.
It found that procedures to protect the information were effective, but that the security of buildings could be improved.
No disciplinary action has been taken against any individuals following the investigation.
The inquiry began in December, following a series of reports in the Irish News of alleged child abuse at the former Lissue House and Forster Green Hospitals in the 1980s.
The reports were backed up by leaked documentary evidence.
Questionnaires
Board members were told on Thursday that questionnaires had been issued to 80 people who had, or were likely to have had access to a number of relevant documents.
At the outset of the inquiry, the decision to send a questionnaire to staff at the board was criticised by the Royal College of Nursing and the public service union Nipsa.
The investigation found it was highly probable that specific files relating to personal and confidential information had been copied from HSCB or Public Health Agency records.
It found the source was likely to have been a member or former member of staff.
The investigation team found that effective information governance arrangements were in place, but identified a number of measures to strengthen the security of the building and protect the integrity of records held.
The board's chief executive, John Compton, said the investigation was necessary to ensure public confidence in how confidential information was managed and stored.
"It has been suggested that this was a hunt for whistleblowers - this simply is not true," he said.
"This was first and foremost about protecting personal and confidential information about patients, families and staff.
"The Health Service holds a high volume of personal and confidential records and it is essential that the public are assured that the board is taking all appropriate steps to safeguard the information it holds."
Mr Compton added: "The board has a very effective whistle-blowing policy and encourages staff who have concerns to raise them through this policy."