Prince of Wales given Irish prayer book gift in Belfast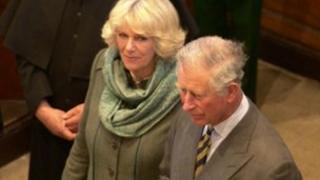 The Prince of Wales has made a return visit to the oldest Church of Ireland in Belfast, to view the progress of restoration work at the building.
Prince Charles first visited St George's Church in High Street 21 years ago, but on Thursday he was accompanied by his wife, the Duchess of Cornwall.
The couple met a number of dignitaries and the Prince was presented with a gift of The Book of Common Prayer.
He was also given a copy which had been translated into the Irish language.
It was titled Leabhar na hUrnai Coitinne.
The Irish language featured prominently in the visit and Prince Charles met members of An Cumann Galeach na h-Eaglishe (Guild of the Irish Language) and Marie Andrews, the director of Abuba, an Irish language children's theatre company.
Arabic
Ms Andrew said when she spoke to the prince he showed great interest in the Irish language.
"I was very impressed by him that he was so interested, and wanted to know, you know, how you said particular things"
The church has held two of services in Irish and more are planned over the coming year.
She told BBC Radio Ulster: "He told me as well that he was learning Arabic.
"I said to him, 'well if you can learn Arabic you can learn Irish, you know'".
St George's Church dates from the early 1800s and is situated close to the Albert Clock in Belfast city centre.
Bombs
It had sustained significant damage in a number of city centre bombs during the Troubles, but a project to repair and restore the 19th century building is almost complete.
On arrival at the church, the royal couple were greeted by Dame Mary Peters, who is the Lord-Lieutenant of the County Borough of Belfast.
They also spoke to members of the church restoration committee and were briefed on the ongoing restoration work by the architect Stephen Leighton.
The rector of St George's, Rev Brian Stewart, said Prince Charles had first visited the church in 1991.
"He saw the building as it then was, bearing all the marks and scars of various bombs of the Troubles.
"The building has since been extensively restored inside and out and work is ongoing, even up to the present day, and he was delighted to see that", Rev Stewart said.
The duchess was given a gift of cards, a posy of flowers and gingerbread men which were made and presented to her by local schoolchildren.
The couple signed the visitors' book before leaving the church.