18-year-old man shot in both legs in Londonderry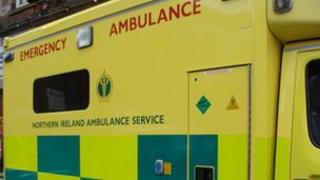 A teenager has been injured in a paramilitary-style shooting in the Creggan estate in Londonderry.
A spokesman for the Northern Ireland Ambulance Service said they received a report of a shooting in Rinmore Drive shortly after 22:00 BST on Thursday.
The NIAS was told that an 18-year-old man had sustained gunshot wounds to both legs.
He was treated in Altnagelvin Hospital's A&E department before being discharged.
The shooting has been condemned by local politicians.
SDLP MLA Pat Ramsey said he believed the vigilante group Republican Action Against Drugs was behind the attack.
"We do know that in the past people have been asked to attend at a certain time and spot," he said.
"One can only imagine that given the hallmarks here, that this is another shooting by Republican Action Against Drugs."